Aspirer
World Freedom Monument
The Romanian Connection
Michail's desires and hopes are that the World Freedom Monument will be cast and fabricated in Romania and transported by ship to San Francisco bay where it will be assembled. Preliminary negotiations are underway through Aspirer Corporation of Denver, CO. to complete this project. Michail's creed "Think Big or Don't Think at All!" is reflected in his creation of the World Freedom Monument, a six-hundred-foot-tall Golden Eagle named "Aspirer" which symbolizes freedom and liberty. The Aspirer Monument has been copy righted and has been registered by the Library of Congress, and is copy righted under Title 17 Section 101 United State Code.
At this point, Michail's dream is to see this wonderful monument placed in the San Francisco Bay, but Alternative sites are also being considered. The 600-foot eagle embraces Michail's most cherished value: FREEDOM!
The drawings are done! Architectural planning is underway! Every penny of profit is going to further develop this project.
(Soon to be available as post cards)
World Freedom Monument, San Francisco, CA
How can you help make this dream a reality? Do you have special skills, knowledge, funding source, or site information? Everyone can offer his or her unique recommendation.
A golden eagle, cast in stainless steel and light-weight polymers, will soar from a glass structure housing observation booths, restaurants, shops and an exhibition hall. State-of-the-art technology will use the latest graphite materials and explosion-casting techniques. The eagle will be computer controlled to always fly into the wind. If there is a chance power failure, the structure can withstand up to 200 mile per hour winds. The three-story structure will rest on a 28' concrete pad built earthquake resistant.
To give you an idea of the immensity of this grand monument, it is here compared to the size of the Golden Gate Bridge pylon.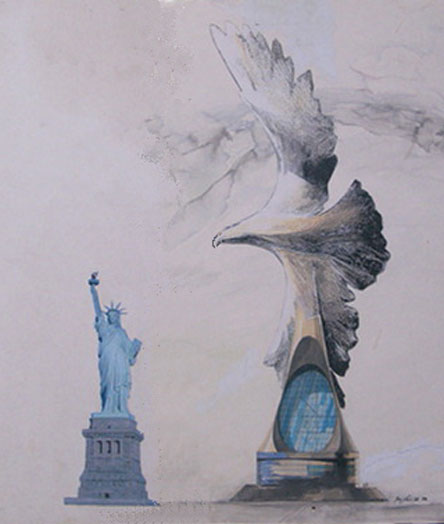 It is appropriate that "Aspirer" should be every bit as colossal as that other fine symbol of The United States of America.
A 4 " X 4 " clay tiles are available for $100 donations towards this project. A soft clay tile will be shipped to you. Once you get your tile in the mail, you can design or write whatever you want on that tile. We will fire it and place it on the outside of the monument. A map will be provided to you to find where the tile is placed. To make a donation towards this project, please Contact Michail Constantine.